Who We Are
The Franco-Ontarian Students' Association (RÉFO) represents the 22 000 students who study in French-language college and university programs in Ontario. The RÉFO was founded in 2009 in order to represent francophone student issues across the province and to unite francophone voices throughout our 11 member institutions. Our members are students at Collège Boréal, Collège La Cité, the University of Ottawa, Laurentian University, Glendon University College, the Ontario Institute for Studies in Education, Université de Hearst, the University of Sudbury, Dominican University College, Saint Paul University and Collège d'Alfred.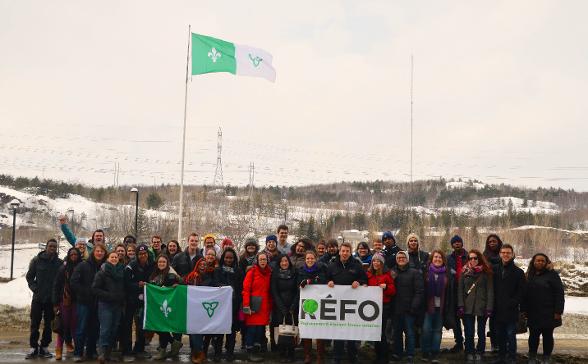 Our Mission
Our mission is to promote the right of francophone and francophile students to study in French in the program and region of their choice and to promote francophone students' involvement in decision making that affects them.
Our Goals
Building an equitable French-language education system in Ontario
RÉFO advocates for accessible, quality and reputable French-language postsecondary programs in Ontario.
Strengthening the francophone student community
RÉFO works towards strengthening the francophone student community so that members from across the province feel a sense of belonging to a larger Franco-Ontarian community that is dynamic, critical and open to the world.
Our Approach
We encourage regular dialog between francophone students from all regions of Ontario and offer students the opportuny to reflect on current events and policies that can address the many challenges they face.
To create a better access to French-language postsecondary education in Ontario:
In priority regions such as Central, South-Western and North-Western Ontario, as well as in fields where little to no programs are offered in French (

Sciences, Engineering, Business and Technology sectors);

To complete programs that are currently only partially offered in French by bilingual institutions;
To increase financial aid allotted to students who wish to study in French;
To develop a strategy to better retain francophone students between the secondary and postsecondary levels:
As many as 40 to 50 % of francophone students will not pursue their education in French after high school because of poor access to postsecondary

programs in their language and region, as well as the high costs of relocating to another region;

There is also a need to create a better understanding of existing French-language postsecondary programs amonst teachers, parents and students at the primary and secondary levels;
Complete French-language programs, where all courses are offered in French, will also help achieve this goal.
Achieving Francophone governance at the university level
Franco-Ontarians have access to a networck of over 450 schools, 12 French-language school boards and 2 French-language colleges which they govern. The principal reason for creating these autonomous institutions has been that bilingual establishments have often led to the assimilation of Francophones. It is in their effort of linguistic and cultural preservation that Franco-Ontarians wish to govern their own French-language university and control its funding and programs, a wish that has been expressed for decades, but has yet to be achieved.

Bilingual universities, in which francophones represent between 18 and 27 % of students, often prioritize the needs of their majority population over their minority population. Access to programs, services and student life in French is therefore difficult in many instances.
French-language schools and colleges have among the best success rates in the province. Francophones know their needs best. With 100 000 students enrolled in our primary and secondary schools and new schools being built in southern and eastern Ontario, the future need for postsecondary programs in French is already being felt and will increase in the coming years.
If Anglophones in Quebec have access to three English-language universities for about the same population as Franco-Ontarians (about 600 000 people) and Francophones in New Brunswick, Novia Scotia and Manitoba each have access to independent francophone universities, with much smaller populations, it is normal for Franco-Ontarians to aspire to the same governance as other national minority populations.
During a press conference in February 2015, the RÉFO and its community partners recommended that the government of Ontario establish a transitional board of governors to assess both the feasibility of creating a French-language university and to recommend a model to the government in the next three years.
What We Do
Apart from ensuring the political representation of Franco-Ontarian students, the RÉFO also organizes multiple activities and gatherings during the year:
"IMPACT" is a student leadership workshop aimed at giving students the tools and knowledge to bring positive changes to their campuses and communities;

The "Franco-Ontarian Student Forum" offers an important discussion space for francophone students to unite and debate issues that affect them;
RÉFO's "Annual General Meeting" unites our members to establish the organization's goals and political orientations, as well as elect our student representatives from our 11 member campuses;
From November 2013 to October 2014, RÉFO organized a series of eleven Public Consultations on French-language Postsecondary Education in Ontario. The consultations united over 1 000 community leaders, students, professors and administrators in order to establish a series of collective priorities to guide the development of Ontario's French-language postsecondary network for the next 10 years.